New 10 & Under PeeWee Paintball!
A safe variation of paintball for 8 year olds!
As of August 31, 2021, we no longer offer PeeWee parties. Check out our new Gellet Ball parties instead! More fun for more ages!
Click Here
I have let my young son use spring airsoft guns before, but paintball scared me. I've seen the welts, and I was worried about my son getting hurt. But this Splatmaster party is awesome! The boys love it, getting exercise and having a blast – it's just great boys fun. I was skeptical at first, but I plan on coming back now!
We now offer 'PeeWee Paintball' games! This equipment is similar to the firing power of your childhood favorite Nerf dart gun, but now for paintball! It's a perfect way to introduce your younger child or sibling to paintball in a safe way, without being worried about a potentially painful paintball hit. PeeWee Paintball games are offered as a private party package only. Players must be 8 years old and up, and adults are welcome to come along too! They have just as much as the kids, if not more. Kids 10 and up should consider Low Impact Paintball or Traditional Paintball.
And continuing our classic hassle-free experience, these packages are all inclusive. For $30/player (10-player minimum), each player will receive: 90 minutes playing time, rental Mask, Gun, Tank and Chest Protector, as well as 250 paintballs for each player. Since we are the party experts, we know you will want to have some kind of pizza or cake, but having muddy kids in the cars and at your house isn't ideal. So feel free to stay for pizza and cake at our Picnic Pavilion after the games end!
*Picnic Pavilion is not private, and is adjacent to playing fields. This Picnic Pavilion can be accessed by all without mask and waiver. To go to the player's area / safety zone, you must have a waiver on file, and be escorted by personal. Parties are invited to utilize the Picnic Pavilion for 30 minutes after their game time is scheduled to end.
PeeWee Paintball Parties at Crusader Paintball are made to be the simplest package we've offered. Just $30.00 / player, tax included, with a 10 person minimum, will include a standard paintball mask rental, a low-impact paintball gun rental, and a chest protector rental for each player, with 250 paintballs for the party. So, a minimum is $300.00 for 10 Players, paid with a 50% non-refundable deposit of $150.00 when you book the party and $150.00 on the day of.
This new variation of PeeWee Paintball utilizes specialized Low-Impact paintball guns that fire at an even reduced speed and impact than normal. 'Traditional Paintball' is 68-caliber at 300 f.p.s., which is basically a quarter-sized ball traveling 205 miles per hour. Low Impact paintball uses a 50-caliber ball at 240 f.p.s., which is basically a dime-sized ball traveling roughly 150 miles per hour.
This new version of PeeWee Paintball uses modified Low Impact guns – so it's a dime sized ball traveling at only 140 f.p.s – less than half the speed and half the sting of a normal paintball gun.
As part of the private party, you will have a 'player/party area' (called a Safe Zone) that has tables / benches for between-game water breaks. This area is where the players will spend the bulk of their time, so coolers with water are welcome. The only people allowed in Safe Zones are people with a signed waiver on file and a rental mask as well (Free of charge)
Alternatively, we have a Picnic Pavilion that has a Snack Shed and Covered Picnic Tables. If you wish, we will allot two tables for your party for 30 minutes after your play time ends. Just discuss this option with the representative on the phone. Parents, friends, family etc. are permitted in the Picnic Pavilion without a mask or waiver.
Spectators, parents, grandparents, siblings, cousins, aunts, uncles and everyone else (not the pets, sorry) are welcome to the fields. In order to access the Playing Fields / Picnic Area, vehicle transportation for players and spectators alike will be necessary. In order to access the Player Area / Safety Zone, a signed Waiver and a Rental mask will be required. Rental masks are provided at no cost for the first four spectators.
While we do offer a small snackshed for refreshments, candy, chips, and drinks, we don't have a grill. That means no real food is offered. To make a complete party experience, we recommended calling our neighbors Uncle Charlie's Pizza – they have great pizza, at a great deal, and deliver to our fields on a daily basis. Everyone loves their pizza! Ask for their menu upon arriving at the Pro Shop, we'll be happy to provide it to you. They'll deliver your order right to the Picnic Pavilion at the time you request!
We know this is the 'elephant in the room' question, so we make it simple – you are not expected to tip, the referees are paid staff. However, they are your hosts for the duration of your stay, and we sincerely hope they help make it a memorable experience for you and your family.
Tips when given are normally between $20 and $40, but even just something simple like a slice of pizza and a thank you is more than enough for the referees!
Arrive to your Splatmaster party about 45 minutes before your scheduled start time. Remember, we can start you early and extend the game time, but if you show up late you will be losing some of your field time!
We guarantee equipment for the people you pay a deposit for only. We can try to accommodate additional players if we have the staff and equipment available, but without updating your headcount we cannot make that guarantee. Please give us a call as soon as possible if you think you may have a few extra players attending your party.
A t-shirt with a hooded sweatshirt will be MORE than ample protection in conjunction with the combined paintball mask and chest protector, and appropriate footwear would include boots or sneakers (if it rained recently, it may be muddy!). Lastly, remember a change of clothes, just in case! If you would like to protect your clothing and gain an advantage in the woods, we offer Camo Jumpsuits for $7
Once you have at least 10 players, call our ProShop at (215) 949-4600 to schedule a reservation. All parties require a 50% Non-Refundable Deposit
Often time players or parents are worried about some extra protection; we honestly only recommend opting for the Anti-Fog mask rental ($10.00) or the Neck Protector ($3.99 in the ProShop). We do also have camo coveralls to protect your clothing for $7.00.
For a real tactical advantage, you can purchase paint grenades to wipe out an entire area of players!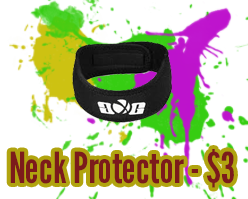 Book your all-inclusive party package online now.
View available times, view packages, leave a deposit, send out invites, and fill out your waivers in just a few minutes. Takes you to our secure site hosted by Vantora, our online-reservation partners.