Host a complete birthday party at Crusader!
We're the party experts, offering affordable all-in-on packages
Get your battle gear on, it's time to party! Crusader Birthday parties are a great, unique alternative to boring bowling lanes, indoor jungle gyms, or having a bunch of guests destroying your house. Paintball is a safe, outdoor activity that is similar to tag & capture the flag, but with more realism than their video games could ever provide! To make our complete packages, we include everything you need – the rental equipment, enough paintballs for the time period, a private party area / rest area for between-game breaks, and a covered picnic pavilion perfect for after game pizza or cake. There is even a pizza place right next door that loves to deliver to our parties, so it's truly all you need. Private Parties are an affordable, memorable experience that your child will remember for the rest of his life!
Click Here to Open Color Invite for Printing
Click Here to Open Black / White Invite for Printing
2 Hour Package
2 Hours of Private Field Play (approx 8-12 games)

Rental Mask, Gun, Tank included

500 paintballs per player

Access to Picnic Pavilion

$190 Non-Refundable Deposit Required

Maximum Party Size of 20 players

+One piece of collateral (credit card or Driver's License) required to receive rentals for entire party
3 Hour Package
3 Hours of Private Play (approx. 10-16 games)

Rental Mask, Gun, Tank included

500 Paintballs per player

Access to Picnic Pavilion

$250 Non-Refundable Deposit Required

+One piece of collateral (credit card or Driver's License) required to receive rentals for entire party
4 Hour Package
4 Hours of Private Play (approx. 14-20 games)

Rental Mask, Gun, Tank included

1,000 Paintballs per player

Access to Picnic Pavilion

$325 Non-Refundable Deposit Required

+One piece of collateral (credit card or Driver's License) required to receive rentals for entire party
Chest Protectors
Rent a Chest Protector and shed a layer. Recommended to first timers or those who want maximum coverage!
Camo Jumpsuits
Camo Jumpsuits keep you and your clothes free of paint and mud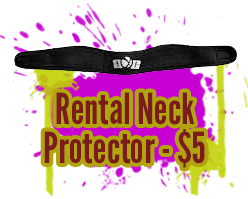 Neck Protector
A Neck Protector saves the day when you least expect it!
Sniper Package
Get a more accurate and faster shooting gun for some extra firepower
Anti-Fog Mask
Anti-Fog masks have dual-panes and are coated, perfect for humid or winter play
Pre-Reservation Questions
Do you require a deposit?
Yes, we do require a deposit for all private parties. The deposit amount is 50% of your party ( so, a deposit for a 2 Hour party this is $190, a 3 Hour party is $225, and a 4 hour party is $325). This is like pre-paying for 5 players, so if you are doing individual payments, whoever is the 'group leader' that makes the reservation will have to leave a deposit of the above amount, and collect the payment directly from 4 of your players. The rest can pay Crusader directly and individually.
Is there a minimum for private parties?
Yes, there is a 10 person minimum for all private parties. If you have less than 10, consider coming to one of our public walk ons, held every Saturday and Sunday. If you honestly cannot have 10 players, you are still more than welcome to play with less than that, but are still required to pay for 10 players. We have the 10 person minimum because after 10 years of business, we have found that having less than that makes the games very boring for players. We will try our absolute best to make the day fun, and do routinely have parties of only 5 or 6 players. In those situations, we play more objective-type games to keep it interesting and fun!
What is the policy for bad weather or cancellations?
We are open rain or shine, but ultimately your referee is the person who decides if the fields are safe for play. Your reservation deposit is non-refundable, so if the weather forecast for your day of play is bad, we recommended getting in touch with us as soon as possible and we will strive to help reschedule your party to a better date.
Do I have to arrive early for a party?
 You should anticipate arriving about 30 minutes early in order to get through the registration and briefing process.  So, if you book a 2 hour party beginning at 1:00 pm, you should plan to arrive at our Pro Shop by 12:15 pm. Party leaders should also be advised that our Pro Shop is NOT adjacent to the playing fields – so transportation from the store to the fields AFTER registration will be required.
Is there any food included?
While we do offer a public, covered picnic pavilion for your use and we have a snackshed on site, our private parties do not include food or cake. You are welcome to bring and enjoy pizza/cake for after-game festivities. In fact, the pizza place right next door delivers to our fields almost daily!
Do you offer discounts?
We do offer large discounts – 10% off for 25-34 people, 15% off for 35-44 people, and 20% off for 45+. All discounts are applied on the day of and cannot be combined with other offers/coupons/discounts.
What else should I bring from home?
Well, first and foremost – spare clothing, and trashbags. The spare clothing to change into and the trashbags for the dirty clothing! A common question is- "Will my son come back covered in paint?" The answer is no, you probably got more paint on you the last time you painted your living room. But, you are outside running around diving, crawling, rolling around in the woods… so you do get muddy.
Bringing in outside food and drink is permitted, or you can purchase food and drink from our snackshed. There is also a great pizza place right next door that delivers to our location almost daily… we'll be happy to give you their phone number!
Do I need to have a chaperon?
Nope! As a family-friendly facility, we pride ourselves in being the 'daycare for adults'. The management staff/family here will be more than happy to take your kids off your hands for a few hours… which is perfect for those random school holidays where you have nothing else to do.
Should I tip my referee? What is the norm?
Your referee is the person who prepared your rental equipment, signed it all out, will be with you from the minute you arrive until you leave, and is the person who then cleans all the equipment afterwards. While a tip certainly isn't expected, it's always greatly appreciated. The 'normal amount' for a tip is about $20-40 (think about it – that ref might have 50 masks, guns, hoppers and tanks to clean!).
Are there any waivers needed?
Yes, we require all players and spectators to have a waiver filled out for their day of play. The waiver must be signed by a parent if the player/spectator is under 18 years old. These waivers are available here on the site (look at the red bar at the top) or can be filled out in person.
How much do more paintballs cost?
Additional paintballs cost $17/bag of 500 for Field Grade paintballs
What else do I need? Are there any other fees?
Nope! The party packages include everything you need to play. No additional taxes, fees, or hidden charges here. That being said, the party package doesn't include things like a camo jumpsuit, a chest protector, anti-fog masks, paint grenades, etc. All of these items (and more) can be purchased/rented on the day of play.
How do I make a reservation?
You can make a private party reservation by calling our Pro Shop at 215-949-4600. Please be advised that we require an up-front 50% non-refundable deposit when you want to book your time slot, so please have a credit card ready. This means that just calling and talking to a store associate about a party does NOT guarantee your party.
What upgrades/other rentals do you have?
Other than the included mask, gun and tank that come with all of our packages, we have:
Camo Jumpsuits (protects your clothing, $7.00)
Chest Protectors ($5.00 Daily Rental)
Neck Protectors ($3.00 Daily Rental)
Anti-Fog Mask ($10.00 Daily Rental)
Sniper Package ($10.00 Daily Rental)
Ammo Pack ($9.99 w/ Pods in the store)
What should I expect on the day of? How do games work?
When you get to the playing fields, your group referee will give all the players a safety and rules briefing, and then split the teams up evenly. We have 7 different playing fields, and each game only lasts about 7-10 minutes. Once a game is over, you go back to your safe zone, wipe off old hits and reload, then go back out to a new field. Rinse and repeat for the duration of your package (2 hour groups generally get about 6-9 games, 3 hour groups typically 8-12 games, and 4 hour groups over 10).
Is there a locker room or place for keys?
No, we do not have lockers on site for customer use, nor are Crusader employees permitted to hold onto your personal belongings at any time. Please bring a bag you can leave in your safe zone for phones/wallets. For players who drive to the fields, please leave your valuables in your (locked) car, and bring your car keys to the safe zone with you. For those who cannot have a car on site while the play, we recommend stopping at a hardware store and purchasing a cheap in-expensive combination lock for a bag, such as TSA lock.
Book your all-inclusive party package online now.
View available times, view packages, leave a deposit, send out invites, and fill out your waivers in just a few minutes. Takes you to our secure site hosted by Vantora, our online-reservation partners.